Every March since the third grade my mother would take me and my brother, who's two years older than me, to the high school state basketball tournament at the Kohl Center in Madison, Wisconsin. The experience of being there as a spectator, especially on Championship Saturday, was something special; however, my brother and I quickly made up our minds that we wanted to be the ones playing on that court one day and raising the gold ball above our heads. That scene ran through my head nearly every night for the next six years.
It wasn't until my freshmen year of high school that we finally had the chance to make this dream become reality and the setting is already set for it. It was Saturday March 19th, 2016 at 9:30 a.m. in a locker room inside the Kohl Center waiting to run onto the floor for warm ups. As we made our way towards the tunnel, the roars of the two student sections got louder and louder. At this point the nerves turned into an overwhelming sense of excitement. This excitement made our 15-minute warm ups seem like it was only about 5 minutes. The one thing I do remember about those 15 minutes is that when I was waiting for my turn in the layup line I was able to refocus myself for a split second and take in the moment. The 360-degree view of the crowd, the overall size of the stadium, the bright lights shining on us, and the fact that everyone there was there to watch us wowed me in this moment.
Maybe the most thrilling experience on Championship Saturday was the introductions. Without warming, the bright, white lights turned off; flashes from phones started, and the announcer began announcing our names. I thought I was excited before the game and during warm ups, but that was nothing compared to how the adrenaline was rushing now. It was now, when the lights were out and the PA was shouting out names that it really sank in: my brother and I had the chance to fulfill our childhood dream of winning  a state championship!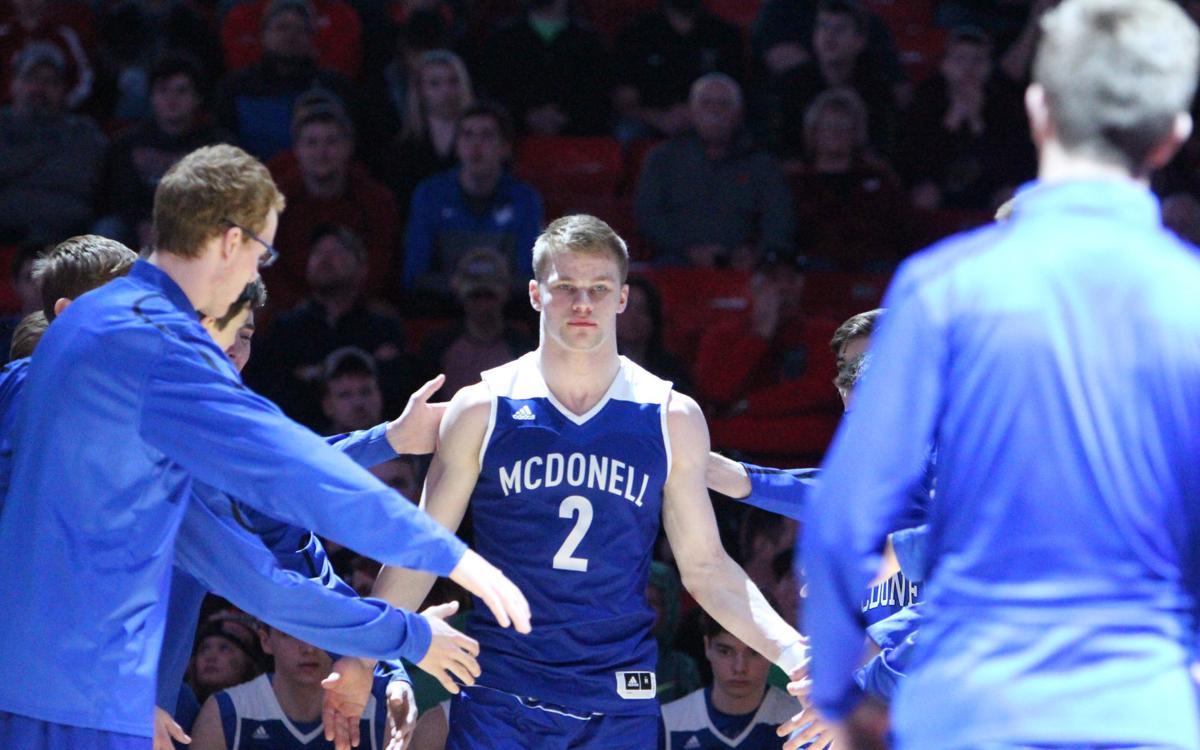 Everything after that was all a blur. The game went so fast it seemed as if they played it without me. In what seemed like no more than 30 to 40 minutes but was actually about an hour and a half, I found myself looking up at the scoreboard with the clock at double zeroes reading the score: Burlington Catholic Central-41, McDonell Catholic Central-63. We did it! My brother and I embraced each other with a sweat-filled hug and we both had a permanent grin appear on our faces knowing we had achieved our dream. There was just one thing left to do.
Unlike warm ups, waiting in line for our medals to be placed around our necks were the longest few minutes of my life. It wasn't the medal I cared about though. It was that glistening gold ball. Finally, after what seemed like forever my brother and I were finally given the opportunity to raise it over our heads and yell out to the crowd with excitement. This was the moment we had waited for, for six years, and we can finally say that our hard work for so many years paid off, and that we, Cory and Nathan Hoglund, are state Champions!